Unless you live under a rock, you're probably aware that Star Wars: The Last Jedi comes out on Friday, and we can't wait!
The much-anticipated film had its Hollywood premiere last week, and as always, the stars of the film turned out in their finest.
Like, did you even see Daisy Ridley's dress?
But it was Carrie Fisher's daughter, Billie Lourd, who really caught people's eye at the premiere...and pulled at our heartstrings.
Check it out, she styled her hair exactly as her mother did as Princess Leia at the end of the very first Star Wars film:
Perfection.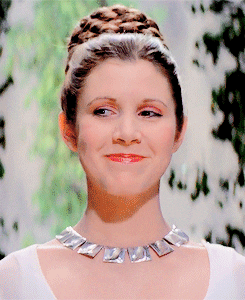 And then there was that beautiful blue ring...
...that once belonged to her mother...
Yeah, Twitter was a mess...
If you're seeing "The Last Jedi" this week, good luck. Bring tissues.
We miss you, Carrie!

Next Article
More From Guacamoley
.

The Scoop

.

The Scoop

Retail workers may be affected the most.

.

Covfefe

The site warned users their information wasn't secure.