In an effort to stay relevant on social media, Paris Hilton took to Twitter and asked followers to validate her by answering a simple and very general question.
Was she having a slow day? Maybe she needed a reason for tweeting this very flattering portrait of herself in thought.
There's no doubt the socialite, model, and great-granddaughter of Conrad Hilton––founder of the Hilton Hotels––is still as attractive as ever. But whatever she was fishing for, Twitter gave her more than their share of random answers.
She got a lesson in geometry.
Do most people know this medical fact?
This may have overshot the request a little.
She was reminded of a past interaction, with proof.
Because she's not a jazz enthusiast.
Whether she's actually omniscient or not, we'll never know. But she made it possible for us to expand our mind with all sorts of trivia we can impress our friends with at cocktail parties. Thanks, Paris Hilton! You're a genius. But you already knew that.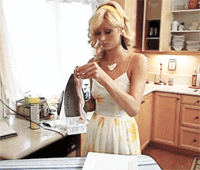 Next Article
More From Guacamoley
.

Covfefe

Actions have consequences, Mr. McConnell

.

The Scoop

Actress Selma Blair shocked the world by revealing her diagnosis of Multiple Sclerosis.

.

The Scoop

We're gonna need a bigger... head?