The presidential pardon of the Thanksgiving turkey has become an annual tradition, granted not one that many people care about, but still, it's a lighthearted way to kick off the holiday break.
Former President Obama had used the opportunity to tell bad and embarrass his teen daughters.
His jokes were so terrible people couldn't help but laugh.
"I want to take a moment to recognize the brave turkeys who weren't so lucky. Who didn't get to ride the gravy train to freedom. Who met their fate with courage and sacrifice and proved that they weren't chicken."
"What I haven't told them yet is we are going to do this every year from now on. No cameras, just us, every year. No way I'm cutting this habit cold turkey."
"When somebody at your table tells you that you've been hogging all of the side dishes, you can't have any more, I hope that you respond with a creed that sums up the spirit of a hungry people: 'Yes, we cran.'"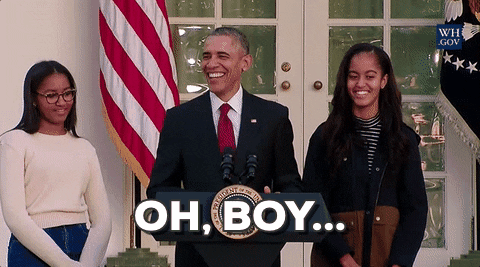 This year it was Donald Trump's turn to step up to the mic and try his hand at humor during the turkey pardon ceremony.
And it went about as well as you might expect:
"As many of you know, I have been very active in overturning a number of executive actions by my predecessor. However, I have been informed by the White House counsel's office that Tater and Tot's pardons cannot, under any circumstances, be revoked."
People are beginning to wonder if Trump's obsession with Obama has reached the scary place.
Laurence Tribe, a professor of constitutional law at Harvard Law School, suggested there might be deeper meaning in the comment about pardons.
After the ceremony an unknown voice shouted to Trump the words we were all thinking:
"Are you going to pardon any people?"
Trump did not respond as he, Melania, and their son Barron went back into the White House.
You can watch the turkey pardon in full below.
Next Article